Groundbreaking milestone reached with support from partners including Vodafone, Rakuten and AT&T, opening opportunities for cellular broadband access globally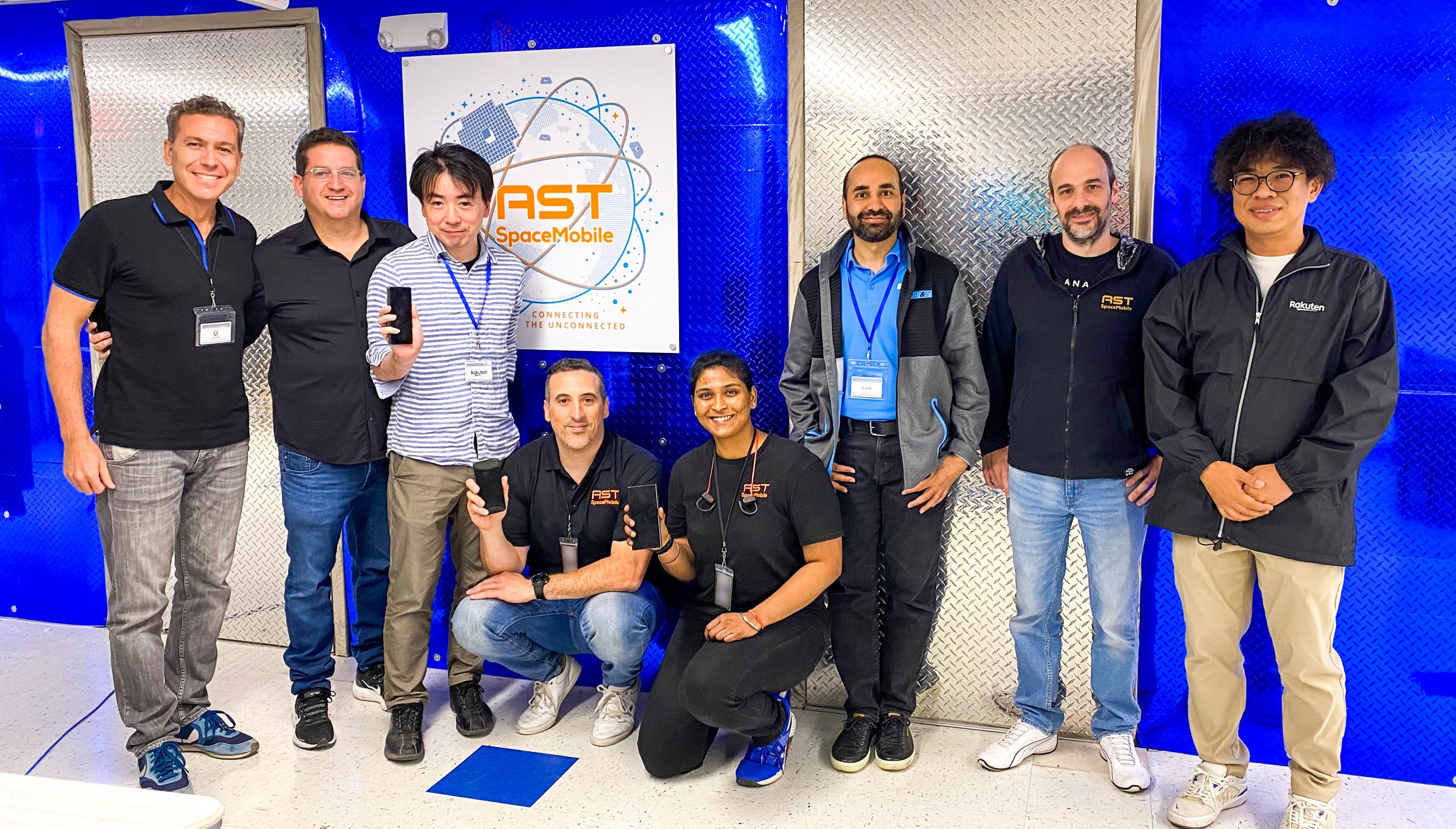 AST SpaceMobile team at the company's Midland, Texas headquarters, with engineers from testing partners Vodafone, Rakuten and AT&T (Photo: Business Wire)
MIDLAND, TX, April 25, 2023 – AST SpaceMobile, Inc. ("AST SpaceMobile") (NASDAQ: ASTS), the company building the first and only space-based cellular broadband network accessible directly by standard mobile phones, today announced the successful completion of the first-ever two-way voice calls, directly to everyday unmodified smartphones using the BlueWalker 3 ("BW3") satellite. This is the first time anyone has ever achieved a direct voice connection from space to everyday cellular devices, demonstrating a significant advancement in AST SpaceMobile's mission to provide connectivity to the nearly 50% of the global population who remain unconnected from cellular broadband. The first voice call was made from the Midland, Texas area to Rakuten in Japan over AT&T spectrum using a Samsung Galaxy S22 smartphone.
The initial test calls have validated the AST SpaceMobile patented system and architecture, and were completed using unmodified smartphones. The calls demonstrated the power of AST SpaceMobile's BW3 satellite, the largest-ever commercial communications array deployed in low Earth orbit and is an important step to providing space-based 2G, 3G, 4G LTE and 5G cellular broadband globally. Engineers from Vodafone, Rakuten and AT&T participated in the preparation and testing of the first voice calls with BW3.
"Achieving what many once considered impossible, we have reached the most significant milestone to date in our quest to deliver global cellular broadband from space. While we take a moment to celebrate this tremendous accomplishment, we remain focused on the path ahead and pivotal next steps that get us closer to our goal of transforming the way the world connects," said Abel Avellan, Chairman and Chief Executive Officer of AST SpaceMobile. "I am immensely proud of our team and our incredible partners, whose unwavering dedication and tireless efforts have brought us to this pivotal moment."
Margherita Della Valle, Vodafone Group Chief Executive, said: "Today, we have taken another major step in mobile communications. 30 years after Vodafone sent the world's first text message, we supported AST SpaceMobile in successfully making the first ever direct-to-smartphone test call using satellite communications. This is just the start. As a lead investor in AST SpaceMobile, we will continue to break technological boundaries by connecting many more millions of people across the planet when the service becomes commercially available."
Mickey Mikitani, Rakuten Chairman & CEO, commented: "It was a unique thrill and honor to have the Rakuten team talk with Abel in a world-first direct-to-satellite experience. Congratulations to AST SpaceMobile and all of its strategic collaborators on this groundbreaking event. As technological advancements like space connectivity become possible with pioneers like AST SpaceMobile, Rakuten will also progress even further along the road to democratizing connectivity for all."
Chris Sambar, Head of AT&T Network, said: "AT&T's heritage began with the birth of the telephone 147 years ago and has continued with many other firsts including: trans-continental call, overseas call, call from the moon, and partnering to deliver the only network built with and for America's first responders. We connect people to greater possibility, and this important milestone with AST SpaceMobile is a big step and we can't wait to see what's next in our space-based journey."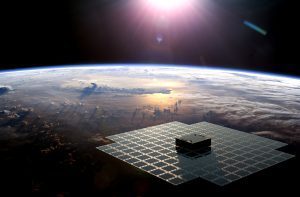 AST SpaceMobile's BlueWalker 3 test satellite currently in low Earth orbit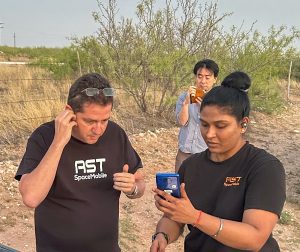 Chairman & CEO Abel Avellan and an AST SpaceMobile engineer completing test calls in Texas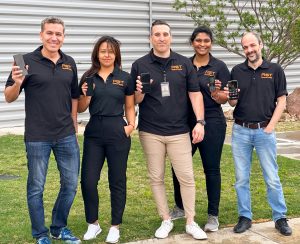 AST SpaceMobile engineers who supported the first voice calls over BlueWalker 3 outside company headquarters in Midland, Texas
In addition to test calls, AST SpaceMobile engineers conducted initial compatibility tests on a variety of smartphones and devices. The phones successfully exchanged Subscriber Identification Module ("SIM") and network information directly to BW3 — crucial for delivering broadband connectivity from space to any phone or device. Additional testing and measurements on the smartphone uplink and downlink signal strength confirm the ability to support cellular broadband speeds and 4G LTE / 5G waveforms.
AST SpaceMobile has over 2,600 patent and patent-pending claims for its technology and built state-of-the-art facilities in Midland, Texas that collectively span 185,000 square feet. AST SpaceMobile has agreements and understandings with mobile network operators globally that have approximately 2 billion existing subscribers, including Vodafone Group, Rakuten Mobile, AT&T, Bell Canada, Orange, Telefonica, TIM, Saudi Telecom Company, Zain KSA, Etisalat, Indosat Ooredoo Hutchison, Smart Communications, Globe Telecom, Millicom, Smartfren, Telecom Argentina, Telstra, Africell, Liberty Latin America and others.
About AST SpaceMobile
AST SpaceMobile is building the first and only global cellular broadband network in space to operate directly with standard, unmodified mobile devices based on our extensive IP and patent portfolio. Our engineers and space scientists are on a mission to eliminate the connectivity gaps faced by today's five billion mobile subscribers and finally bring broadband to the billions who remain unconnected. For more information, follow AST SpaceMobile on YouTube, Twitter, LinkedIn and Facebook. Watch this video for an overview of the SpaceMobile mission.
Forward-Looking Statements
This communication contains "forward-looking statements" that are not historical facts, and involve risks and uncertainties that could cause actual results of AST SpaceMobile to differ materially from those expected and projected. These forward-looking statements can be identified by the use of forward-looking terminology, including the words "believes," "estimates," "anticipates," "expects," "intends," "plans," "may," "will," "would," "potential," "projects," "predicts," "continue," or "should," or, in each case, their negative or other variations or comparable terminology.
These forward-looking statements involve significant risks and uncertainties that could cause the actual results to differ materially from the expected results. Most of these factors are outside AST SpaceMobile's control and are difficult to predict. Factors that may cause such differences include, but are not limited to: (i) expectations regarding AST SpaceMobile's strategies and future financial performance, including AST's future business plans or objectives, expected functionality of the SpaceMobile Service, anticipated timing and level of deployment of satellites, anticipated demand and acceptance of mobile satellite services, prospective performance and commercial opportunities and competitors, the timing of obtaining regulatory approvals, ability to finance its research and development activities, commercial partnership acquisition and retention, products and services, pricing, marketing plans, operating expenses, market trends, revenues, liquidity, cash flows and uses of cash, capital expenditures, and AST's ability to invest in growth initiatives; (ii) the negotiation of definitive agreements with mobile network operators relating to the SpaceMobile service that would supersede preliminary agreements and memoranda of understanding; (iii) the ability of AST SpaceMobile to grow and manage growth profitably and retain its key employees and AST SpaceMobile's responses to actions of its competitors and its ability to effectively compete; (iv) changes in applicable laws or regulations; (v) the possibility that AST SpaceMobile may be adversely affected by other economic, business, and/or competitive factors; (vi) the outcome of any legal proceedings that may be instituted against AST SpaceMobile; and (vii) other risks and uncertainties indicated in the Company's filings with the SEC, including those in the Risk Factors section of AST SpaceMobile's Form 10-K filed with the SEC on March 31, 2023.

The ongoing testing of the BW3 test satellite may not be completed due to a variety of factors, which could include loss of satellite connectivity, destruction of the satellite, or other communication failures, and even if completed as planned, the BW3 testing may indicate adjustments that are needed or modifications that must be made, any of which could result in additional costs, which could be material, and delays in commercializing our service. If there are delays or issues with additional testing, it may become more costly to raise capital, if we are able to do so at all.

AST SpaceMobile cautions that the foregoing list of factors is not exclusive. AST SpaceMobile cautions readers not to place undue reliance upon any forward-looking statements, which speak only as of the date made. For information identifying important factors that could cause actual results to differ materially from those anticipated in the forward-looking statements, please refer to the Risk Factors incorporated by reference into AST SpaceMobile's Form 10-K filed with the SEC on March 31, 2023. AST SpaceMobile's securities filings can be accessed on the EDGAR section of the SEC's website at www.sec.gov. Except as expressly required by applicable securities law, AST SpaceMobile disclaims any intention or obligation to update or revise any forward-looking statements whether as a result of new information, future events or otherwise.

Investor Contact:
Scott Wisniewski
investors@ast-science.com

Media Contact:
Allison+Partners
Eva Murphy Ryan
917-547-7289
AstSpaceMobile@allisonpr.com